Traditional Costumes
Pierrot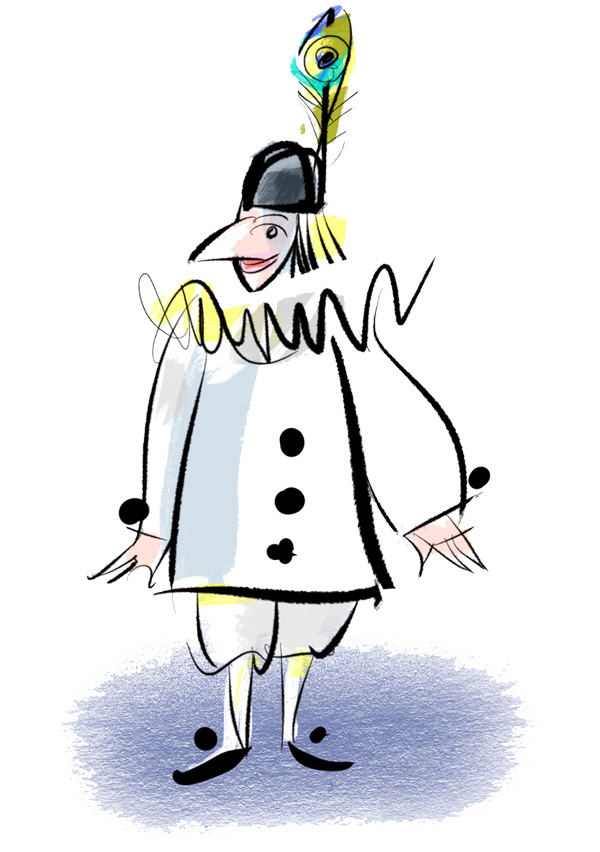 Ideal in the early 1900's
The Pierrot of Basel Fasnacht would have felt most at home in the early 1900s. The Pantomime Jean-Gaspard Deburau created the figure/character in Paris. With this figure we see that he wore a black cap which in the Basel Fasnacht is mostly made out of felt. The character itself has an almost melancholy presence.
The predecessor to the Pierrot character is the Service figure from Commedia dell'arte
This Pierrot has it roots in the service figures of the Commedia dell'arte. The history of the figure can be traced back to the 1600s where it first appeared in Italian theatre groups and over time was adopted by the French theater and developed into the Pierrot we see in Basel Fasnacht.
Costume
The costume of the Basel Pierrot by and large is colorful and is composed of a wide shirt and baggy pants which are usually ¾ pants. Other distinguishing features of this costume are that the felt head-cap they wear is fitted with peacock feathers, and the costume itself is adorned with different coloured bobbles. The mask they wear is usually paired with a wig.