Traditional Costumes
Blätzlibajass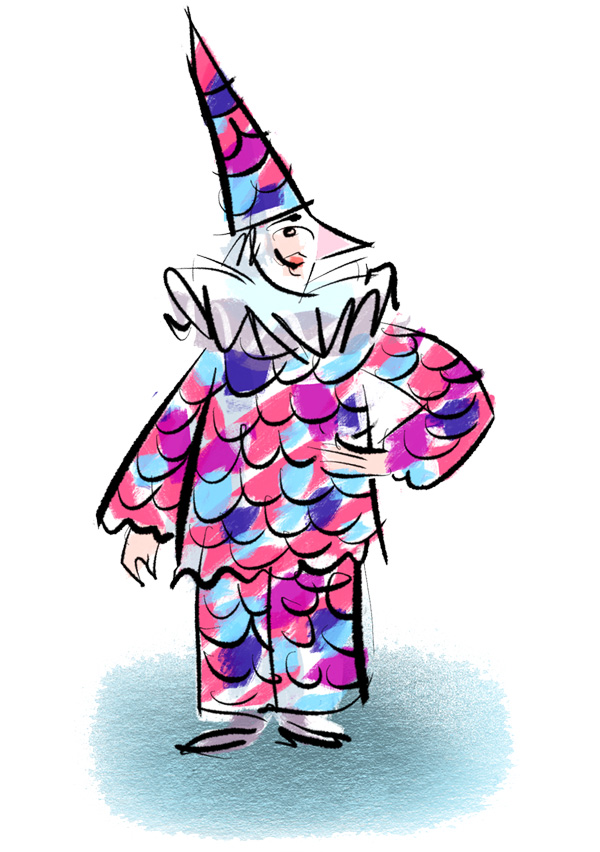 Sewn together with bits of cloth
This costume is a popular, traditional costume which comes in numerous variations. It is very possible that the Bajass (bufoon) was inspired by an Italian comedic figure.
Bajazzo German for Pagliaccio
Bajazzo, which is the German expression for the Italian Pagliaccio, refers to a clown or a prankster. Thus, this figure takes its roots from the Commedia dell'arte.
Fabric made of felt
Today the fabric used to create these costumes is felt. Over a thousand tongue-shaped bits of felt are sewn together by hand. Usually the shape remains the same size, and the same colours are used for one costume.
Costume
The costume is usually made up of two pieces and is held together by a neck ruff. Other distinct attributes of the costume are a pointed hat, which can be traced back to the Commedia dell'arte, and a pointed nose. The wig is made from fiber. This costume and the figure is associated with, and represents an individual with a happy and fun personality and disposition.